SERVICES
As a Senior Director for the Art Advisory firm Gurr Johns, I help collectors to start, build and sell artworks. Sometimes I am acquiring or selling one work, other times that encompasses finding the best avenues to divest of an entire estate or a private or corporate collection.
COLLECTION BUILDING
Collection building begins with an understanding of what is in the collection and the threads within those holdings that the owner would like to strengthen. This is a client driven process with the end goal of creating a collection that owner dreams of. As I have two decades as a professional in the arts (and have been obsessive about seeing exhibitions and in evolving my knowledge of artists' practices) I help facilitate and make that dream a reality.
ACQUISITION PROCESS
I buy and sell privately from collector to collector, at auction or through galleries—researching the market and finding the best possible prices and value for artworks in the current market. There can be a massive discrepancy between the asking prices on works of art and overpaying is the most common mistake of collecting. I vet all works for price, value and condition, ensuring you are acquiring quality works for a fair price.
GURR JOHNS ART ADVISORY
Gurr Johns, the firm that I work for, is one of the largest, trusted and oldest appraisal and advisory firms in the world which transacts in $150 to $200 million in art annually. Established in 1914, Gurr Johns has built the most experienced team of global advisors in the world, covering much of the US, Europe and Middle East and deal in works from Old Masters to the present. With this team dynamic, Gurr Johns advisors can pool our resources to cover the expansive global market that is today's art world--putting that power to work for collectors. We operate with the utmost discretion, professionalism and confidentiality.
BACKGROUND
One of the aspects that makes me a unique within the world of advisors is the diversity of my background. As a former professional in an international auction house, galleries, and as a curator, I am able to synthesize market knowledge, academia and curatorial thinking within my advisory practice--giving a collector a multi-faceted view when collection-building.
CONTACT
If you are interested in discussing your collection or are a professional in the arts that would like to inquire about works available, I would be happy to open up a discussion of how I can be of service.
Thank you,
Dane Jensen
Senior Director, Art Advisory
Gurr Johns, Los Angeles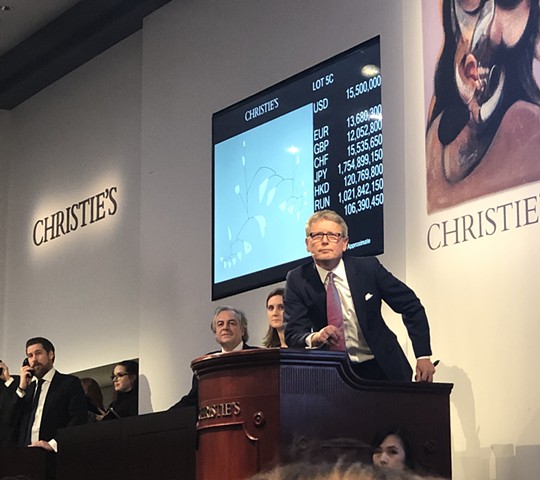 Representing Gurr Johns at the Post War and Contemporary Art, Evening Sale, Christie's New York
November 15, 2018